After 3.5 months of development we're pleased to announce

Phobos v0.2

- a new stable release of Phobos YR Engine Extension. Since the first public release a lot of contributors joined us to help push YR modding forward, including such talented people as Uranusian, secsome, Otamaa, FS-21, Starkku and a lot of others.

Many of the new contributors didn't know much about reverse-engineering or how to implement new ingame stuff (neither did I a year ago), but thanks to help of the community (especially tomsons26 and CCHyper) it's not a secret knowledge and everyone can learn it and help. Moreover, I've been working on simplifying the process of contributing even more by writing a dedicated documentation section. We invite everyone to try and help develop Phobos to push YR modding even further.

The key features of this update:

- Shields! Thanks to the combined work of Uranusian, secsome and Belonit now any ingame unit and building can have shields which act as a second HP bar with custom parameters including armor, recharge rates, graphics, animations etc. Moreover, Starkku has added special warhead params that interact with shields in a special way.



Buildings, Infantries and Vehicles with Shield in Fantasy ADVENTURE

- Custom radiation types, which were implemented by Otamaa with help of Belonit and Uranusian based on unused Ares code. You can have multiple which properly blend and respect Affect* tags, so you can make oddities as healing fields for friendlies or something like this.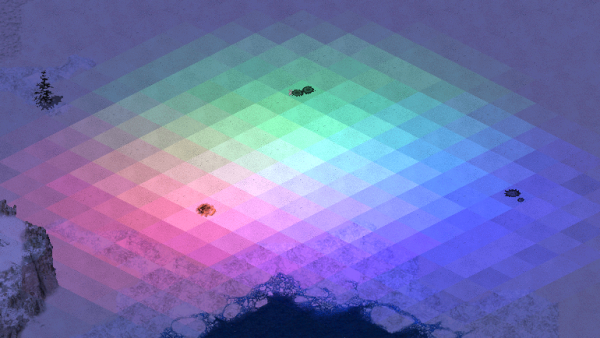 Different radiation types can blend

- Customizable ore spawners, implemented by me, Kerbiter. You can now have customizable ore type, range, ore growth stage and amount of cells generated. Boring 3x3 patches of undergrown gold are no more!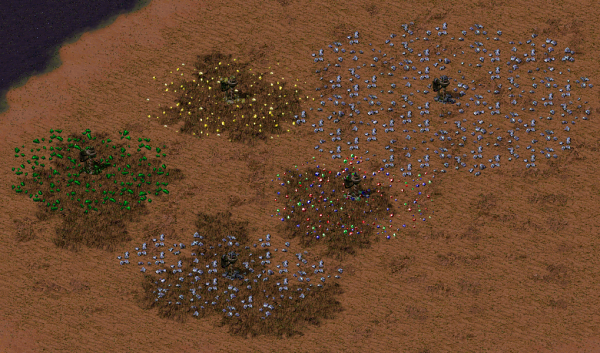 Different ore spawners in Rise of the East

- Projectile interception logic made mostly by AutoGavy and ChrisLv_CN. You can now have point-defence laser systems to shoot down particular projectiles that were specified as interceptable, a-la Generals.




Projectile interception used in Tiberium Crisis

- Harvester counter implemented by Uranusian. Changes colors and counts harvesters in a customizable way. Now players would be able to easily check the health of their long-term economy and look after rogue harvesters.




Harvester Counter in Fantasy ADVENTURE

- When you found out that some of the harvesters don't actually harvest - you can use Select Next Idle Harvester hotkey command that I implemented to jump to the next lazy harvester that decided to loaf a bit.

- Another hotkey command called Dump Object Info (by secsome with edits from FS-21) is meant to help mod/map developers to see detailed info about some object.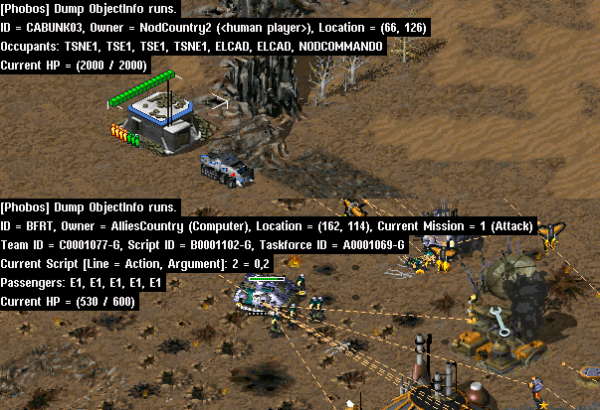 Dump Object Info used in CnC: Reloaded

But that's not all! Those are the biggest and most noticeable features that we introduced in this update. We also fixed a big bunch of bugs from vanilla YR and unhardcoded a lot more stuff. You can read the full list of changes in the full v0.2 changelog.

Download the latest release here: https://github.com/Phobos-developers/Phobos/releases
Read the latest documentation: https://phobos.readthedocs.io/

Contribute to Phobos: https://github.com/Phobos-developers/Phobos
Chat with developers: https://discord.gg/sZeMzz6qVg

If you want to say "thank you" in a monetary form please use the donation links that are available in credits section.